MA Statistics Indicator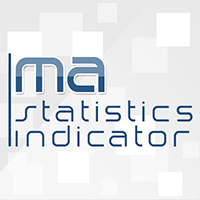 Summary

This indicator calculates certain statistics related to Moving Averages and the price. The statistics are related to Points, Candles, and Slope. The current calculated numbers are compared to historic statistics to determine overbought/oversold levels, which are good buy or sell signals. There are 5 types of statistics. Four of these may give buy or sell signals.
Inputs
Compare Price?
There are only standard inputs in this EA. For example, lot size, TP, SL, and so on. They are self-explanatory and easy to use.
Candles Back
This is the number of candles in the past that statistics will be gathered from.
Other Inputs
The rest of the inputs are either standard MA inputs, alert inputs, or display inputs. These should be self-explanatory.
Notes
The indicator does not consider partial cycles. For example, if you set 'Candles Back' to 300 and 300 candles in the past lands in the middle of a cycle, the indicator will ignore it and will continue looking to the right through the newer candles until it finds a complete cycle. So it is possible that even if you set 300, this may not be the actual number of candles used.
DLL imports must be enabled for this indicator to work.
Forum
The official forum to post your comments, questions, concerns, or bug reports about the MA Statistics Indicator can be found at Forex Zone Forum.
Example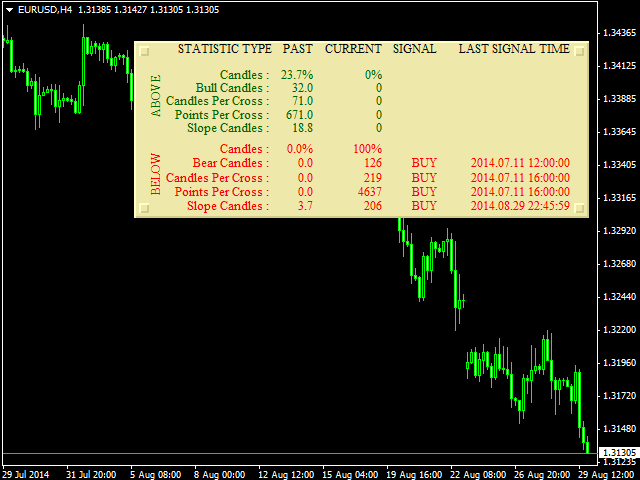 Download
The current version is v6.21. Updates will be made based on customer feedback.
This indicator is FREE with no restrictions! Just use the link below to download instantly.
Post your questions or feedback on the official MA Statistics Indicator forum page.
Please SHARE this indicator to support our work!